These manhole covers were manufactured according to one of the most traditional techniques of foundry, using sand moulds them-even created with models out of wooden. These moulds ware once-only-use and this process allow not some strong output but correspond with production by some small foundry establish everywhere in France, to answer directly to the local need.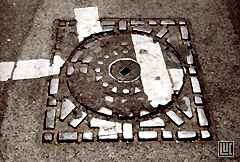 Sometimes a funny look after several street signs paintings.
The visual attraction that can exert the manhole tops comes from the variety of their surface design, subtly improved by the cast iron and its color and its particular way to reflect the light. Supporting the passage of vehicles, the manhole tops have never be paint. Their aspect be thus that of metal rough, more or less patinate and shine, according to whether the place where they are receive much traffic or not.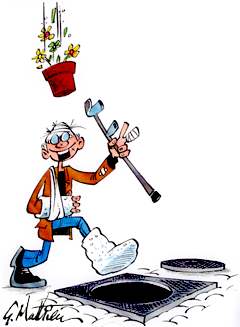 These holes on the ground also evocate an accidental fall, a matter of hazard...
For the designs, there are a limited number of topics, usualy geometric and rarely figurative (Belgium, where this foundry activity was very important and famous, presents some much more interesting models). Radial designs where alternate in a symetrical order, lines, arcs, points, circles, squares, triangles, stars and various polygons.
Sometimes figure the name of the foundry and / or that of its place, sometimes that of the city where these models were fixed or, seldom, of the armorial bearings or an escutcheon.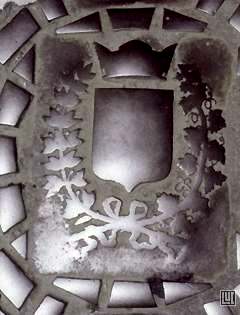 Nimes (Gard) cover designs detail.
It is undoubtedly this simplicity set of themes which dedicated the manhole tops to the general indifference and cause that today still - whereas the old models are in the way of disappearance - they do not benefit of any conservatory vocation.
Certain models are openwork in order to allow the insertion of a fill material, in general of cement or roadway material, in order to offer a riding surface similar to that of the close surrounding. Rarer is this model of the town of Troyes (photo n° 23) whose cells were designed for wood paving stones - and always contain some (economic, light and easily replaceable). This let us remember that certain streets were, for a time, paved with blocks of wood , oriented to present their most resistant side on the top. Too much slipping in wet weather to be durably appropriate, this technique was abandoned and some rare models as this one testify concretely (Note: Some similar models in England.).

---
>>> Next page