MANHOLE COVERS begann to be used in every cities at the end of the XIXth century, time of photography development too. So, since that do they appear accidentaly on street pictures.
But to be part of a drawing is not a matter of chance. It depends of the artists decision.
It excluded, first ,stories appening in :
the past before end of XIXth c., when manhole covers simply didn't exist.
natural environments
undefined strange futurist environments.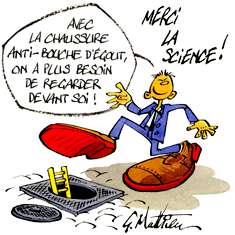 Whith thess shoes, no more risk to fall in !...
To add manhole covers to scene show that the artist kows its utility, or likes its look or that the protagonist(s) need a trip in sewers to escape a danger.
So did I search for manhole covers in comics and found some, which I let you see here, as a short catalog :
(Some pages using Javascript don't display well with Netscape, sorry ! ).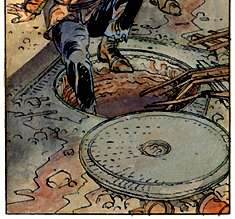 A way to escape danger (In «Bouche du diable» Boucq - Ed. Casterman) !...
---
>>> First page